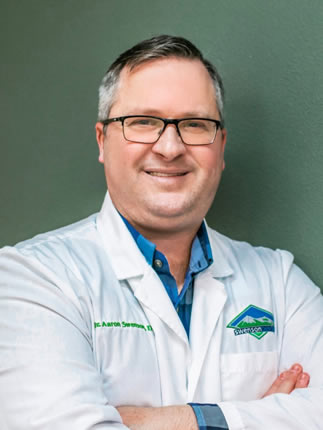 Hello! My name is Dr. Aaron Swenson, and I am very happy you have chosen our team to be your dental provider. One of my favorite things about the dental field is that I love to make people smile, and I love the positive impact that dentistry can have on people. I find great satisfaction in helping to meet people's needs and improving their quality of life. Being able to relieve a patient's pain, enhance their dental appearance, and smile because they feel cared for is very rewarding!
Dentistry runs in my family. My father was a dentist and I grew up in and around the dental clinic. Combined, my father and I have over 40 years of dental experience.
Early in my dental education I attended Pacific Lutheran University, earning my Bachelor of Science in biology in 1999. I completed my Doctorate of Dental Surgery from the University of Washington School of Dentistry in 2003, after which I served as a dentist in the US Air Force until 2007.
To provide the best dental experience possible, my staff and I attend continuing education courses annually to stay informed about current treatment options and procedures for our patients. Our overall goal is to provide quality dental treatment. I am a member of the American Dental Association, Washington State Dental Association, and North Olympic Dental Society, all of which provide numerous continuing education opportunities.
My wife Erika and I have been married since 2000 and we have two wonderful sons, Aidan and Ethan. Together, the four of us live right here in my hometown of Port Angeles.
When I'm not in the office, I enjoy spending time with my family, taking advantage of the outdoors in our area, and watching football and baseball.
I am also heavily involved in my local church and a variety of volunteer activities through the church. I believe it is important to give back to the community you live in, to make it a better place for everyone now, and for future generations.